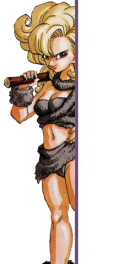 :|:information:|:fun stuff:|:
:|:miscellaneous:|:guestbook:|:

©1999 Audrey. Site created October 4th, 2000; last updated October 7th, 2000. Please refrain from taking anything without consulting me first. Ayla, Chrono Trigger and all things related ©1995 Squaresoft. The font used on the header is called Caveman, and you can download it at Fontalicious Fonts. Kave Kitten is part of the Space Kitten Network and the Impurity collective.
In other words, "I pity da foo dat takes mah shit!"